From time to time we need a laptop for CAD. A cost effective solution is the Lenovo Ideapad L340-15API with standard 16GB RAM plus a Ryzen A7 CPU. Here is the story and the findings. Only modification is an upgraded M2 unit.
Upgrading the NVM
Need more!
256GB is definite not enough when working with virtual machines. The upgrade is an Intel SSD 660p, 1 TB. I try to avoid "SSD" and call it "NVM": Non Volatile Memory, rather not Solid State Disk. Solid State Device is a not preferred alternative.
Spoiler alert: Where is the 256 GB NVM?
Okay, this is funny, the original 256 GB NVM is simply not there! Then what is? A good old fashioned 2.5″ SSD! And that is good news for an expanding future.
Considerations
Pre-installed Windows is not needed so it is tempting to simply install Xubuntu and go. But I want a way back. On the other hand, for the time being I really don't need Windows. Playing around with a SystemRescueCd and dd, there is always a way to deal with this in the future. Setting up Grub and things are back to production level. Interim solution: Boot order in UEFI.
Opening the case
Simply remove all screws from the back cover and use a credit card to pry it all open. Take it easy and you won't damage anything.
Place it all and close it up
Needed: A M2 screw that is not included (M.2, is that a coincidence?). Luckily I always have threaded rods and nuts, so I made it myself, seriously, see the picture, hammered top.
The "BIOS"
Keep the power button pressed for reboot, hit F1 (or F2?), go to boot tab: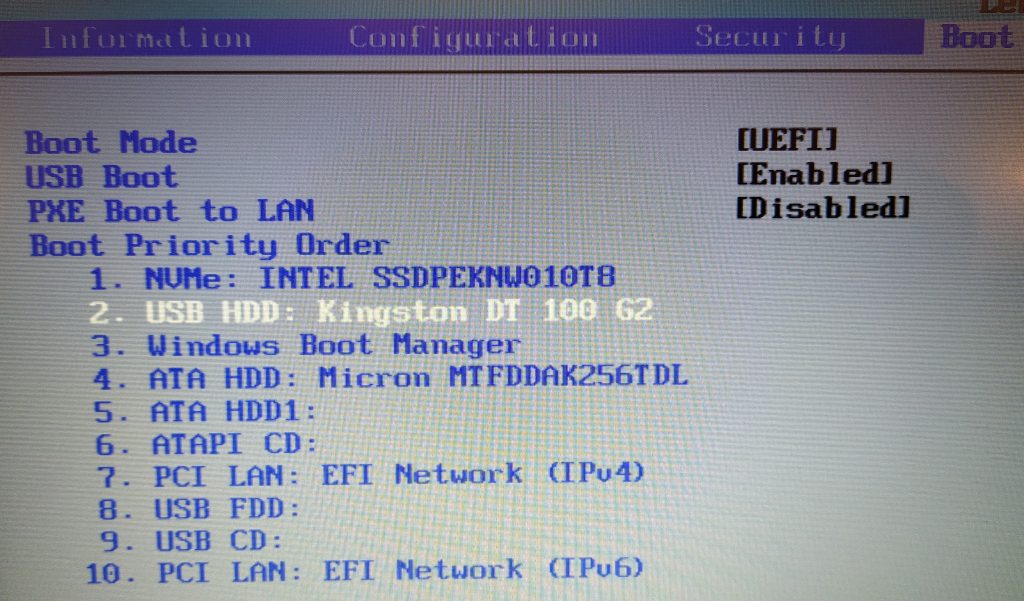 1: Put the new M.2 NVM on top.
2: Boot stick with Xubuntu
3: Stuff on SSD
…
Save and reboot for installing Linux.
All the next steps…
See the BricsCAD Linux pages.